..:: Kellog ::..
kellykellysingapussy
Wednesday, April 27, 2005
Mummy's Birthday
Overdue pictures.
Since Mummy's birthday is on the 21st and mine's on the 22nd, it's always a celebratory mood in the Chan household around this time. We went to a great Teochew restaurant along Old Havelock Road called Liang Kee.
Mummy pretends to blow out the unlit candle on her birthday cake to shy away from the attention of a birthday song. We insisted on singing it anyway, albeit very very out of tune.
This is the bunch of flowers my brother and I gave here, displayed proudly at home.
Our gift to her, a collage made on
picasa
(they make it real easy to do collages), proudly displayed at home as well. I gotta say, we have a very very homey home with all the pictures put up.
Here's the collage in clearer view. My mumy has classic expressions caught nicely on camera. The "Mummy/Mommy" is how she signs off her emails to her children, because she says my brother pronounces it as "Mummy", while I pronounce it as "Mommy". Go figure! ...and yes, that is a picture of her doggie Brenddi included. She
is
the apple of her eye (aside from me and kor kor of cos!) after all!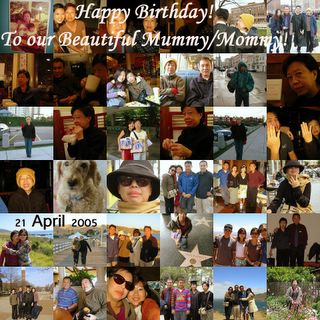 kellykelly, 4/27/2005 08:09:00 am
---
1 Comments: